blue Crepes Maker Party Time
0202/01
Blue Electric crepes maker with the unique design of the 1950s American Diners. Let's party with Party Time Ariete!
Homemade crepes are always a good idea!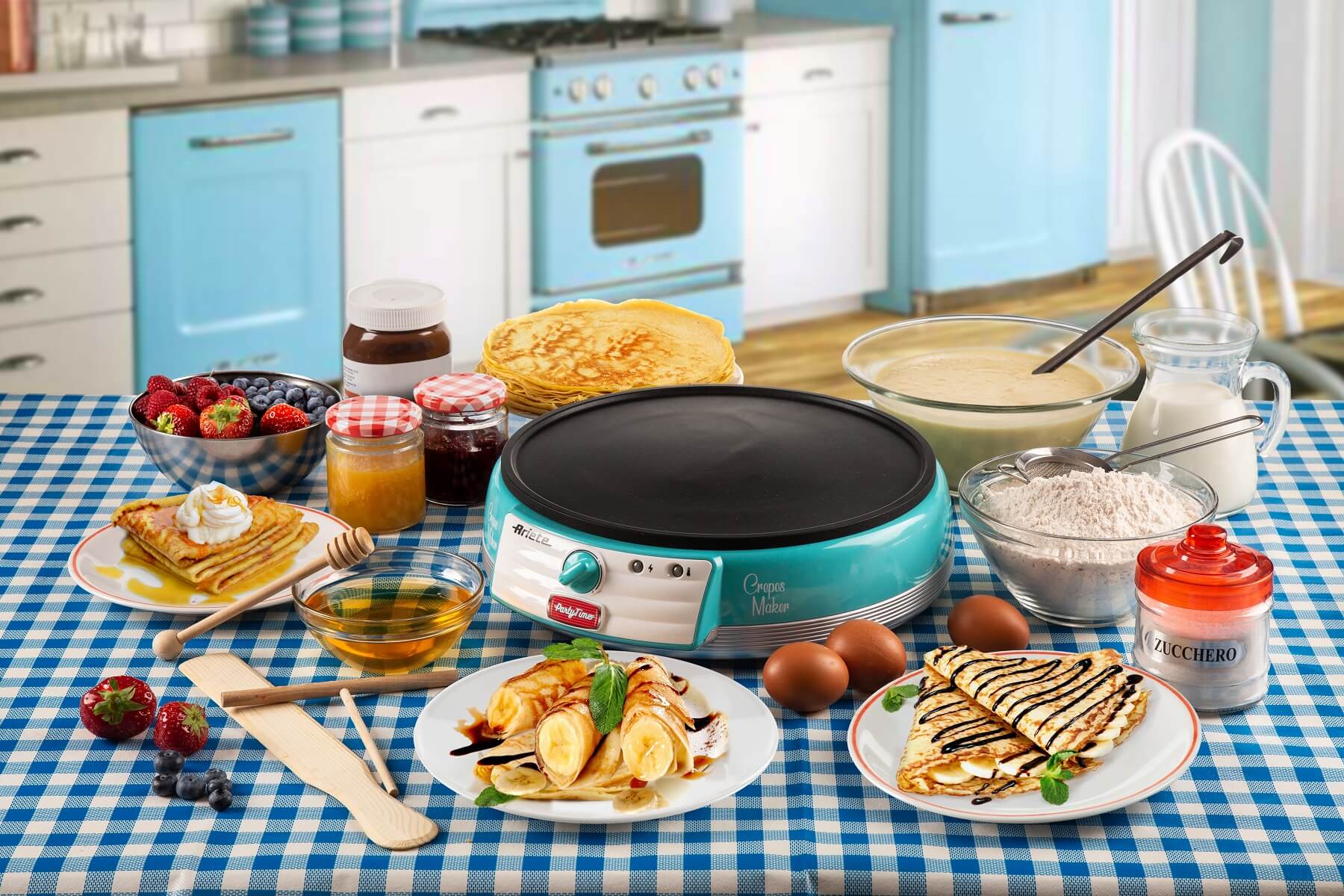 With Crepes Maker Party Time every day is "Happy Days"
Party Time is renewed and transforms your kitchen into a 1950s American Diner, with its unmistakable lines and many products designed to have fun with family and friends. Bring the joy of homemade crepes to the table, with the new Crepes Maker Party Time by Ariete: very easy to use and which you will no longer be able to do without for delicious snacks and parties at home! The electric plate is made of non-stick material, ideal for rolling out and turning crepes easily, also thanks to the two wooden spatulas supplied and the dough rolling tool. With the electric crepe maker you can bring to the table sweet and savory crepes, pancakes, but also pancakes and wraps to be filled. Free your imagination and test yourself with many delicious and fun recipes!
Sweet or savoury crepes for a fun afternoon snack
Afternoon tea, dessert or snack? At any time, crepes are an option that's delicious and different from usual that captures the hearts of adults and children alike. Prepare the crepes mix with eggs, milk, butter and flower and choose your favourite topping, combining fruits, ice cream, jam and spreadable creams. For a snack that's lighter but just as delicious, you can make light crepes by making the base mixture without eggs or gluten. And for those who prefer salty to sweet? With the Party Time crepe plate, you can create different savoury crepes every day for happy hour and nibbles. Use salmon, sour cream and chives to make delicious rolls, or quickly make lots of spinach and ricotta pancakes to put in the oven for dinner!
A mountain of pancakes for brunch.
Pancakes, maple syrup and fresh blueberries are essential for a Sunday brunch in true American breakfast style. With the Party Time Crepes Maker electric crepe maker, even pancakes are quick and easy to make, to be enjoyed hot, soft and freshly made. You just need to use a spatula to flip the pancake as soon as you see bubbles appearing on the surface. When they're ready, create your pancake stack!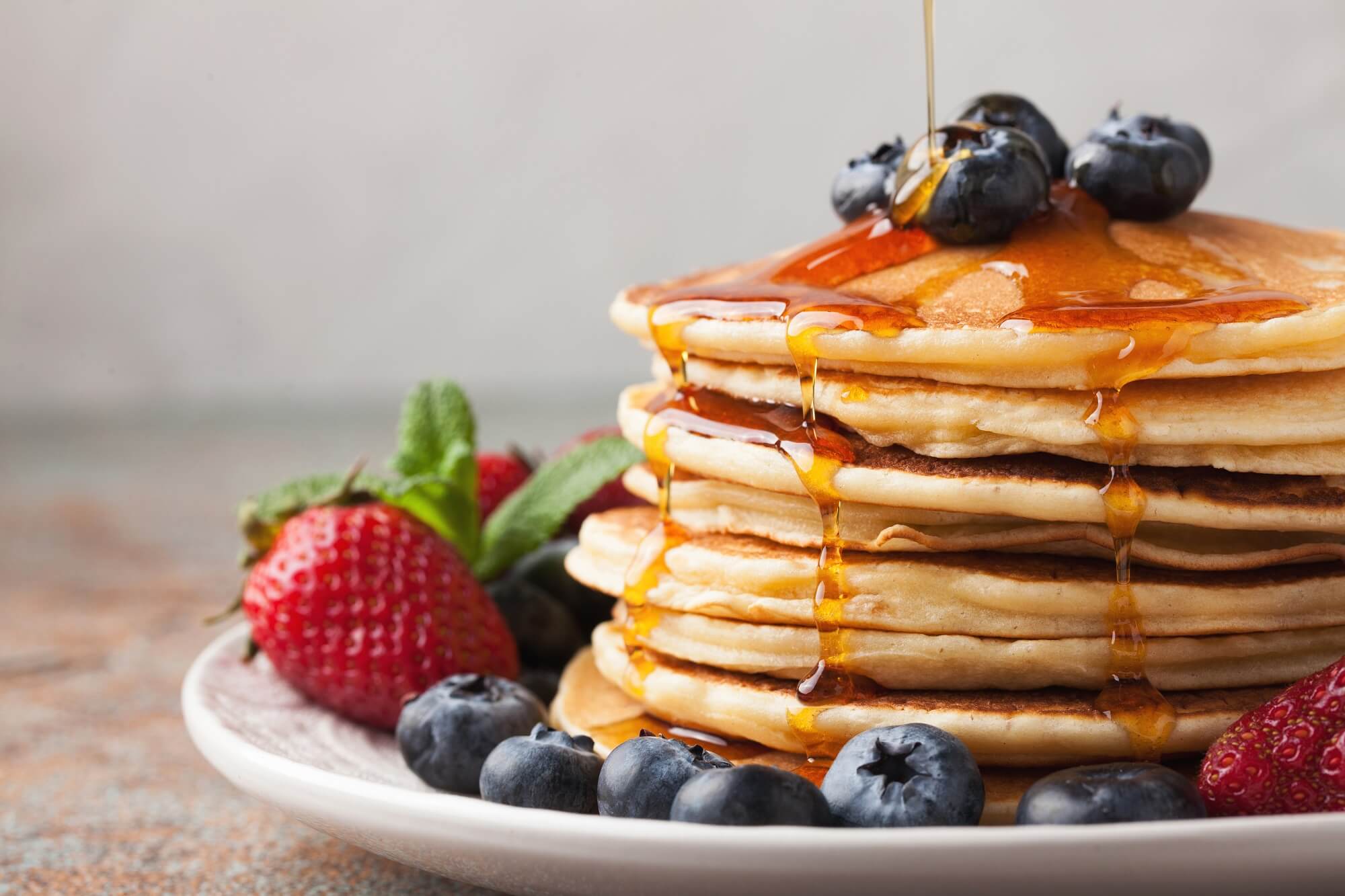 IT'S ALWAYS PARTY TIME WITH ARIETE
Discover Ariete's Party Time line, with loads of products designed for you to have fun together and create delicious snacks and parties for all ages. Loads of products, all featuring a sparkling design that will take you back to the American Happy Days of the 1950s!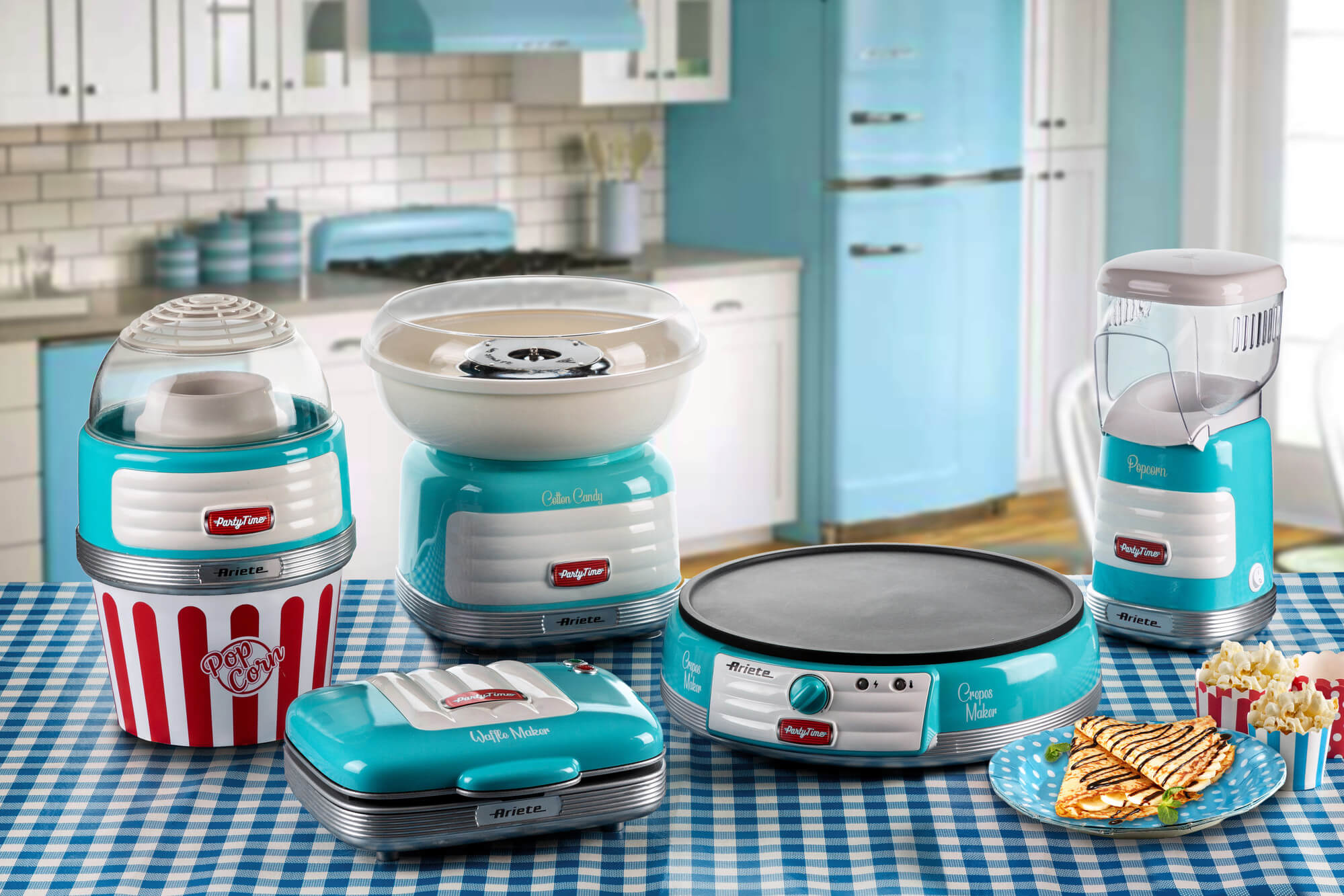 | Label | Value |
| --- | --- |
| Model | 0202 |
| Code | 00C020201AR0 |
| EAN | 8003705119048 |
| Power | 1000 Watts |
| Power On and Ready Temperature Indicator | ✓ |
| Non-stick plate | ✓ |
| Wooden spatulas | 2 |
| Cable reel | ✓ |
| Product length | 35.00 cm |
| Product width | 33.00 cm |
| Product height | 9.50 cm |
| Product weight | 1.39 Kg |
| Box weight | 1.89 Kg |
| Master weight | 8.16 Kg |
| Master pieces | 4 |
| Pallet pieces | 88 |
| 20 container pieces | 1620 |
| 40 container pieces | 3280 |
| 40H container pieces | 3700 |