Steam Power
6423/00
Iron with stainless steel rechargeable boiler. 6 bar Pressure, Steam Shot, Continuous Steam and Vertical Steam. ECO function
Steam Power 6423: roomy and powerful for ironing with minimal effort
There are many small tricks to make the time of ironing easier and faster, but certainly in the first place among the advice you'll always find that of having an iron with a powerful and capacious boiler, which allows you to iron even a large amount of garments, quickly and effortlessly. The Ariete Steam Power iron meets all these needs because it is equipped with a removable and easily refillable 1.8 liter boiler, a power of 2200 watt and a continous jet of steam up to 100 grams per minute.
With Steam Power by Ariete you iron all types of fabric saving time and stress, because it guarantees excellent ironing performance, an intuitive and easy-to-use design and all the power you need.
Steam Power easily irons many items without effort
Easily iron any type of fabric and a large amount of garments
Steam Power is an ironing system with a rechargeable boiler designed to simplify and make ironing any fabric or garment easier. Your wardrobe will finally be ironed to perfection with minimal effort!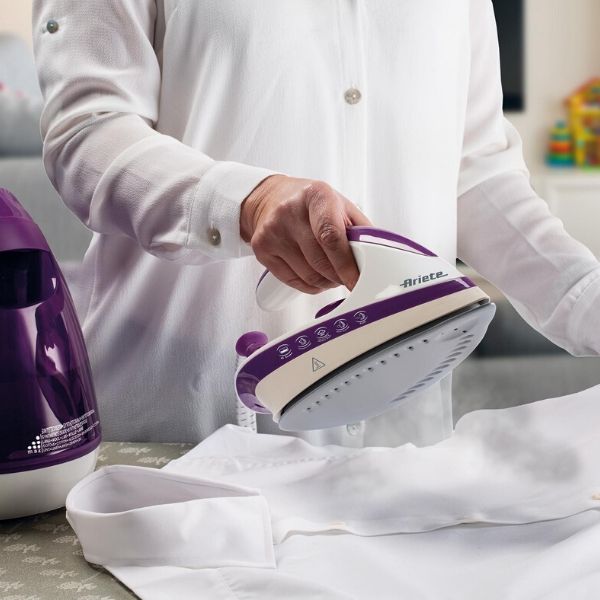 Continuous steam up to 100 g/minute
With the continuous flow of steam up to 100 grams per minute, ironing has never been easier. Thanks to the rechargeable boiler, you can also iron large quantities of garments with minimum effort and saving time and energy.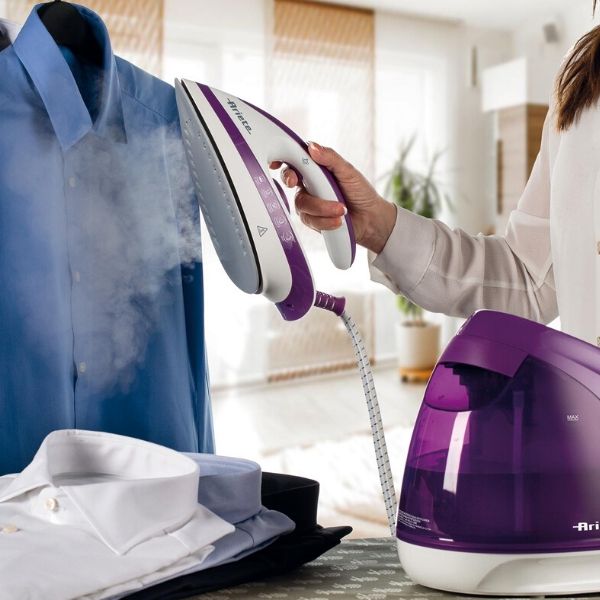 Vertical Steam
With the vertical steam function, the iron with Steam Power boiler refreshes and sanitizes clothes that have already been worn, before putting them back in the wardrobe and also allows you to make small touch-ups before putting the clothes in the wardrobeo.
Iron with powerful and capacious pressure boiler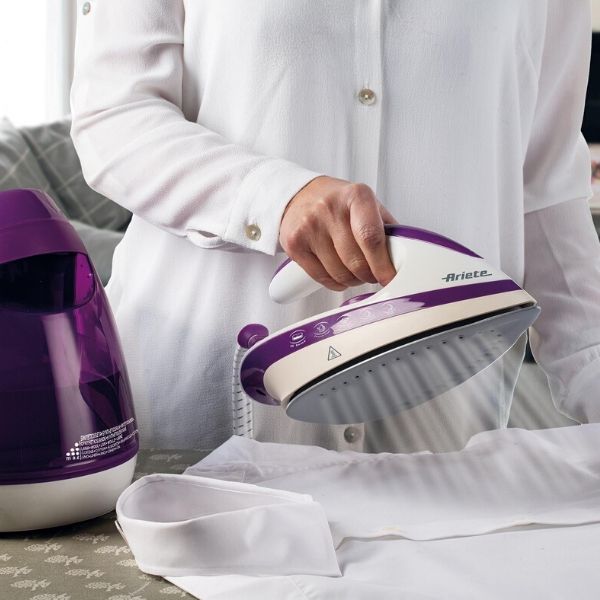 Steam shot up to 480gr
The steam shot of the iron with pressure boiler is strong and well directed thanks to the many holes placed on the ceramic plate of the iron. Test it with the most resistant fabrics and you will see how easy ironing becomes with Steam Power.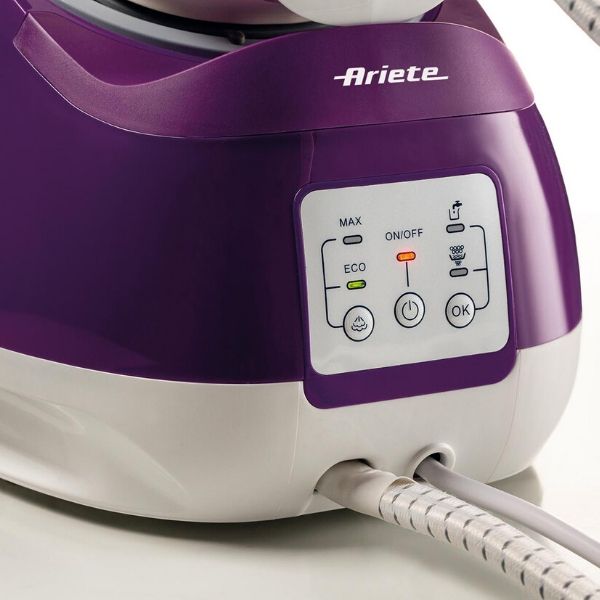 ECO function
With Steam Power you also save on household consumption! Simply activate the ECO function to allow the iron to consume less energy than traditional functions, allowing you to iron even very delicate fabrics such as silk with the best results.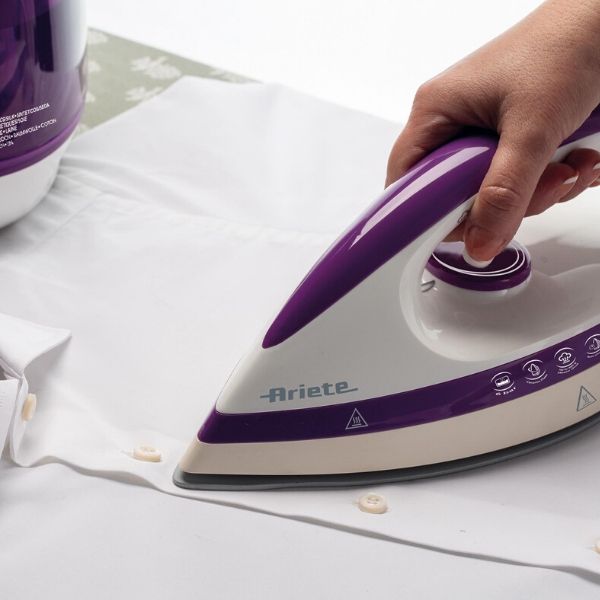 Ultra-smooth ceramic soleplate
The Steam Power iron plate is made of ceramic and guarantees you not only a perfect result on clothes with a single pass, but also maximum comfort when ironing, because the iron is ergonomic and smooth on all fabrics .
| Label | Value |
| --- | --- |
| Model | 6423 |
| Code | 00S642300AR0 |
| EAN | 8003705118096 |
| Power | 2200 Watts |
| Ceramic plate | ✓ |
| Pressure | 6 bar |
| Capacity | 1.8L |
| Removable and refillable tank | ✓ |
| Steam shot | 480gr |
| Continuous steam | up to 100gr / min |
| ECO function | ✓ |
| Vertical steam | ✓ |
| Descaler | ✓ |
| Auto shut-off | ✓ |
| Adjustable thermostat | ✓ |
| Cable reel compartment | ✓ |
| Power light | ✓ |
| Steam ready light | ✓ |
| End of water warning light | ✓ |
| Product length | 39.00 cm |
| Product width | 22.00 cm |
| Product height | 29.00 cm |
| Product weight | 4.09 Kg |
| Box weight | 5.87 Kg |
| Master weight | 13.01 Kg |
| Master pieces | 2 |
| Pallet pieces | 32 |
| 20 container pieces | 610 |
| 40 container pieces | 1258 |
| 40H container pieces | 1354 |