Sani-Jet Air
2836/P0
Ultrasonic sanitizer, ideal for sanitizing environments in a simple and practical way because it acts in total autonomy. Using it with a Sani-Jet Clean, it sanitizes an area of 15 square meters in just 30 minutes. Recommended by the Ministry of Health
Make your home safe with the sanitizing effectiveness of Sani-Jet Air
With Sani-Jet Air you sanitize your home in a
practical and safe way
. Dissolve a sachet of Sani-Jet Clean in 700 ml of water, set the timer, operate the product and
sanitize your home, office, shop or any other environment
easily and safely.
Sani-Jet Air works independently by
sanitizing the rooms by air saturation
, effectively
eliminating germs and bacteria from any surface
up to the most difficult to reach corners.
Sani-Jet Air can also be used
as a humidifier
thanks to the specific function that can be set from the
touchscreen LED display
. Humidifies the air, making the environment healthier and more relaxing.
Sanitizes up to 90 m2 with a sachet of Sani-Jet Clean
Make your home safe and sanitized: with a sachet of Sani-Jet Clean you can sanitize up to 90 m2 in just 3 hours and in total autonomy. It is necessary to dissolve a sachet of Sani-Jet Clean in 700 ml of water and once the solution (pink in colour) has been created, it will be active for 5/7 days.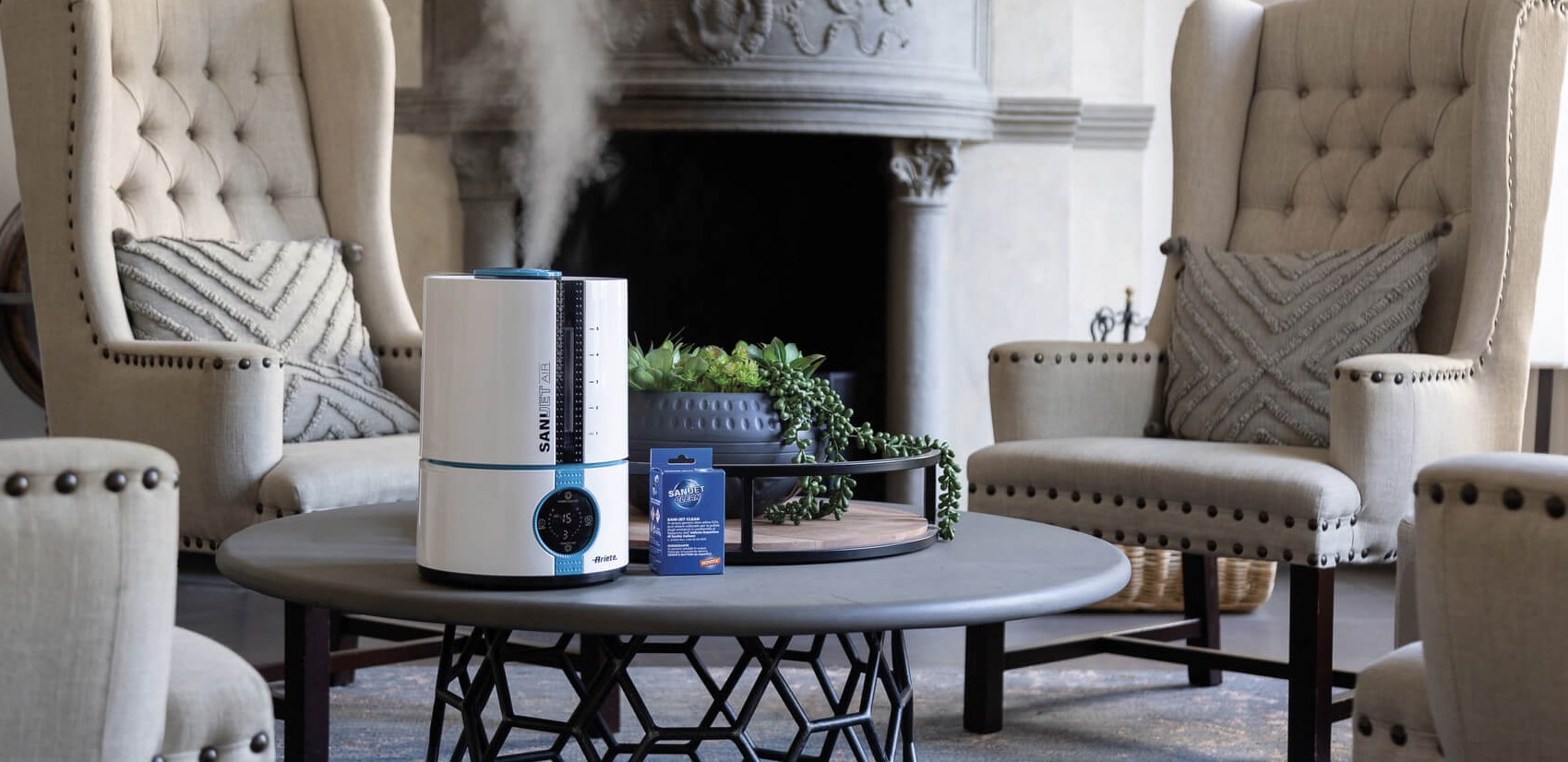 Not just at home
With Sani-Jet Air you can thoroughly sanitize and humidify all environments, both domestic and work. Ideal for home, offices, gyms, kindergartens, shops, beauty salons frequented by several people throughout the day.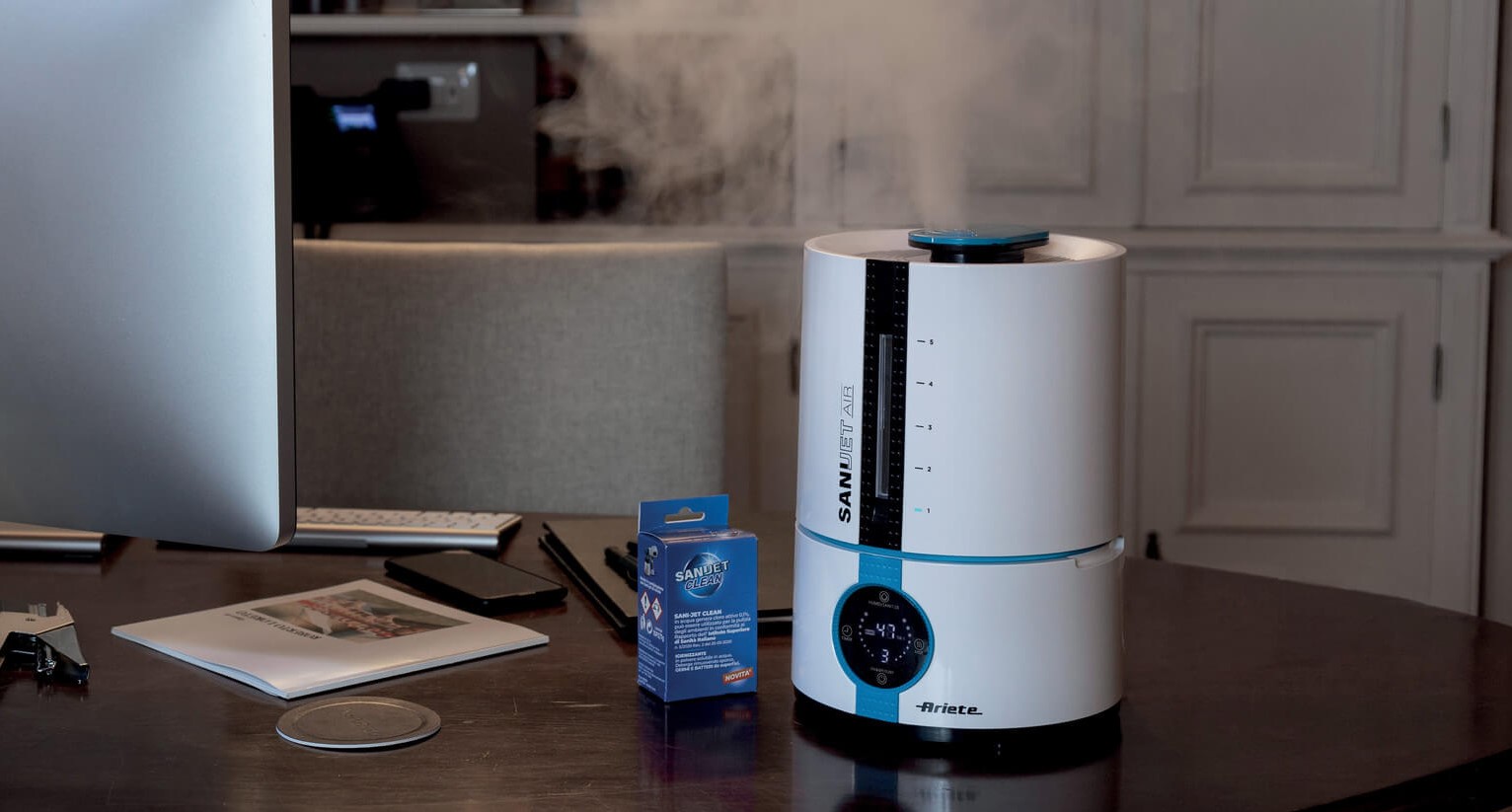 Humidification function
Sani-Jet Air is the humidifier that thanks to the special adjustable function up to 95%, to make the air healthier and cleaner. The advantage of Sani-Jet Air is that it does not use fragrance solutions and can be used in all those cases where the humidity falls below the standard levels. Once the established humidity value is reached, Sani-Jet Air automatically stops its operation.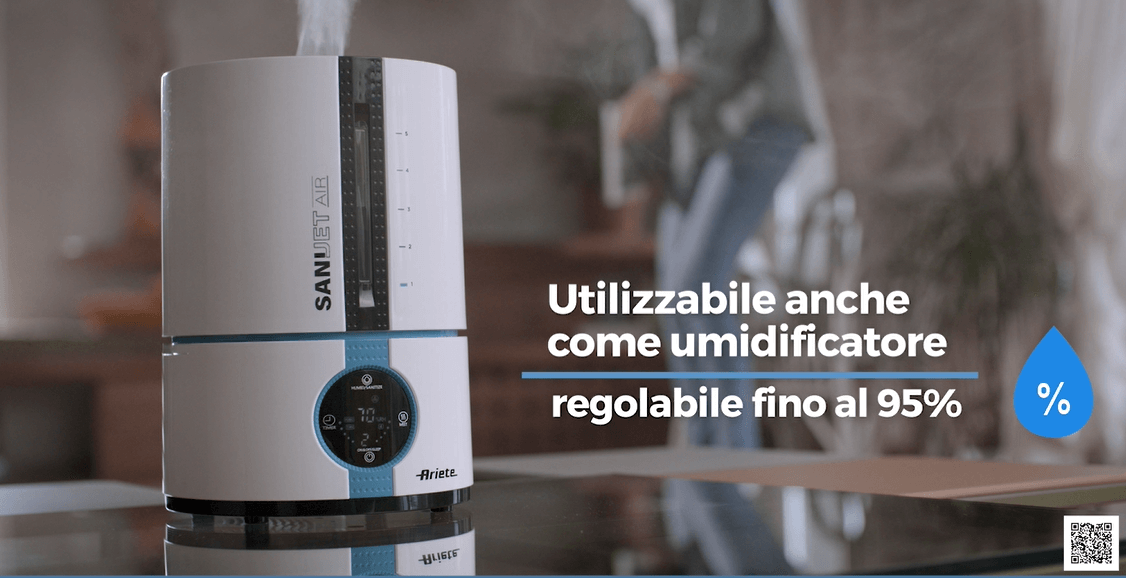 | Label | Value |
| --- | --- |
| Model | 2836 |
| Code | 00B2836P0AR0 |
| EAN | 8003705120204 |
| Power | 30 watts |
| Tank capacity | 5L |
| Included | 10 Sani-Jet Clean sachets |
| Sanitize up to 90 m2 with one sachet | ✓ |
| Touch screen LED display | ✓ |
| End of water warning light with beep | ✓ |
| Ionic function | ✓ |
| Timer with 3 intensity levels | ✓ |
| Functions | sanitation and humidification |
| Product length | 21.50 cm |
| Product width | 21.50 cm |
| Product height | 29.00 cm |
| Product weight | 1.50 Kg |
| Box weight | 2.30 Kg |
| Master weight | 9.10 Kg |
| Master pieces | 4 |
| Pallet pieces | 80 |
| 20 container pieces | 1428 |
| 40 container pieces | 2960 |
| 40H container pieces | 3472 |